It's midnight. Do you know where your plushie is?
Today's date is:
---
This is a page from the Plushie Peril comic in the "Sacred San D" issue. It's a scene where an Anime Fan and a TMNT Fan have a 'few words'.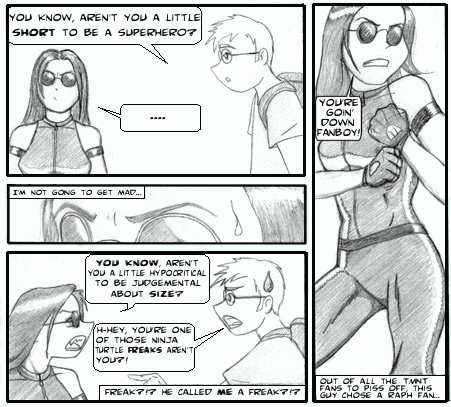 Any comments/questions/suggestions about the comic? Do you like what you see so far? Any feedback - good or bad - is essential to making this comic improve. The above page is an example of what the comic may look like. So anything you want to tell me, now would be a good time :)
Later days!
Amandatello
---
The Teenage Mutant Ninja Turtles®, including characters Michaelangelo®, Leonardo®, Donatello®, Raphael®, Splinter®, April O'Neil®, Casey Jones®, Klunk®, Shadow® and the Shredder® and all related materials are © Mirage Studios USA.